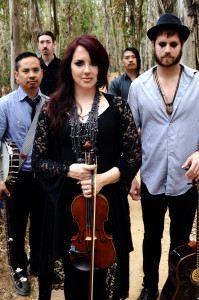 Five-piece acoustic world punk band QUEL BORDEL! was formed in San Diego, CA in 2013. After two and a half years, multiple releases, and hundreds of shows, they have made a dent in the local and international music scene.
Just after the release of their first full-length CD "Caravan Treasures", nominated for Best World Music Album by the 2015 San Diego Music Awards, QB! reveled in a three-week international festival tour with French folk group BandàpArt. Noted for their wild performances and danceable beats, QB! has headlined sweaty, high-energy shows at House of Blues Mainstage and the Casbah, and has performed at the Get Shamrocked festival three years in a row, most recently as the direct support for the Young Dubliners.
With several television slots, new music, and regional touring, they will certainly be busy until their next international tour slated for summer of 2017.
Keep an eye on the Future Concerts section to find out when they are coming to you!!